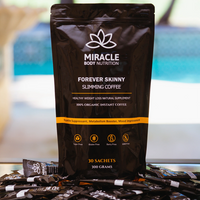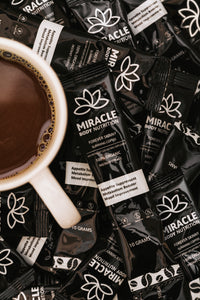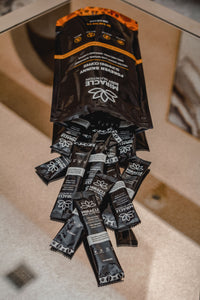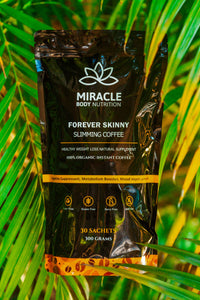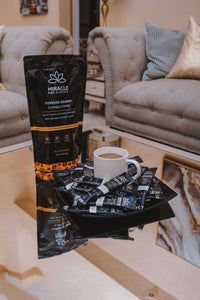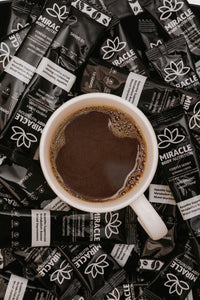 FOREVER SKINNY SLIMMING COFFEE
Miracle Body Nutrition's has knocked it out of the park with its NEW Product FOREVER SKINNY SLIMMING COFFEE! If you've been looking for an effective way to feel and look lighter in a yummy way, look no further, you've found the right product. Sometimes we don't lose weight because constipation gets in the way and this is where FOREVER SKINNY SLIMMING COFFEE comes in. Forever Skinny Slimming Coffee is a weight loss supplement that helps you lose weight by helping to burn fat. It also helps to control your appetite and keep you on track with your diet plan. The ingredients in the coffee help to reduce inflammation, which is a key factor in losing weight. Our premium coffee promotes healthy weight loss by helping with appetite control, metabolism boost, improving your mood while cleansing and detoxifying your body.

Suppresses Appetite Safely: This green coffee formula is a "drug-free" dietary supplement developed from a blend of herbal extracts, used with a healthy diet plan, our green coffee helps curb your appetite and stimulates your body to burn fat and calories.
Made out of 100% natural herbs, such as green coffee beans, Ganoderma mushroom Ginseng extract that promote anti-fatigue, improved immunity, metabolism ect., to achieve great health. Ingredients such as Lotus leaf extract, Garcinia Cambogia Extract and L-carnitine can control hunger hormone to suppress appetite and reduce calorie intake. Reduces fat synthesis, accelerates fat burning, blocks absorption of fat and controls weight effectively.
Ingredients: Instant Coffee, Green Coffee Extract, L-Carnitine, Green Tea Extract, Garcinia Cambogia Extracts, Ginseng Extract, Cactus Plant Extract, Lotus Leaf Extract, Guarana Extract, Senna Leaf Extract. 
Take 1 sachet a day (30 mins before breakfast, lunch or dinner). After you take our coffee, wait 5 minutes and drink at least 2 glasses of water.